Headteacher's Welcome
Year 7 Charity Programme
Sixth Form: What our Prefects think…
International Women's Day: Let's Show Them All!
Music For Youth: Band Success
Young Enterprise Victory!
Prince's Trust Award: Uniform Swap-Shop
Lola Videan: Our Rolls Royce Pupil
Whole School Show: Announcement!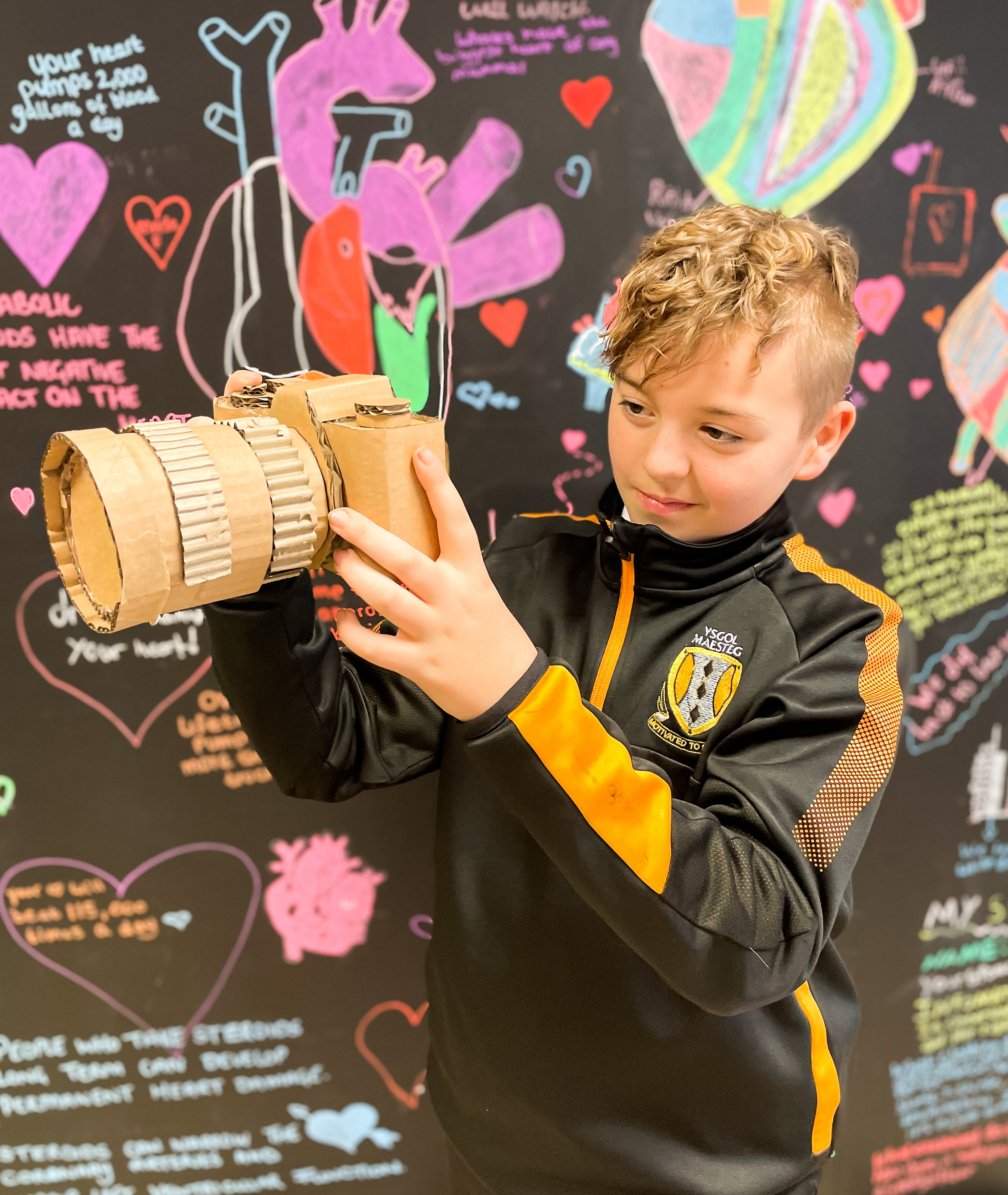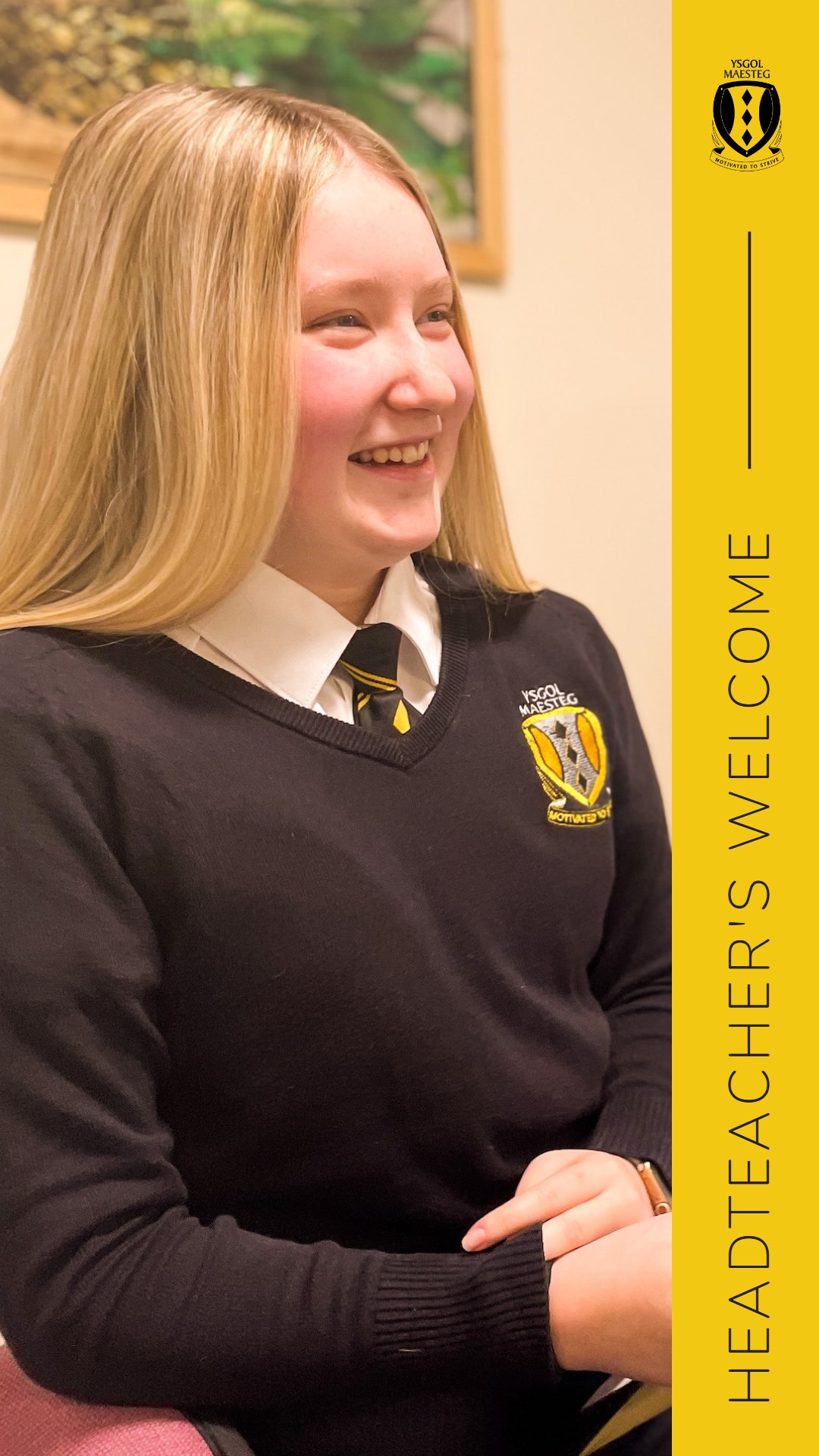 Headteacher's Welcome
It is time to celebrate the end of a wet and windy spring and look forward with hope and optimism to the summer holidays and the new school year.   This newsletter is packed full of the fantastic achievements of our pupils as we have so much to celebrate at Maesteg.  I hope you enjoy reading this edition as much as I did and share the same pride and admiration in our community of young people who deserve our applause and praise.   
 We have focused on developing our Curriculum for Wales by creating authentic learning experiences  that give a real context, audience and meaning to the learning activities.  Our year 7 students thoroughly enjoyed competing against one another to win a cash prize for 'marketing' their chosen charity.  This activity not only developed their oracy skills but their ability to work as a team and collaborate with one another.    
Our female musicians honed their creative skills by working alongside professional singer/songwriter Lowri Evans to produce a song that celebrated National Women's Day.  The emotional and stirring final performance of 'Let's Show Them All', referenced our rich history of feisty women in the Maesteg valley and has to be a number 1 hit soon! We are continuing to develop the musical talent of Maesteg by supporting our growing 'Band' culture where our students perform music of their choice.  We have some amazing talent at Maesteg School and watching these students improve in confidence and ability is truly humbling.  Let the Battle of the Bands commence! 
Developing employability skills for the World of Work is also key to our curriculum and there is no better way of celebrating entrepreneurship than the 'Young Enterprise' competition.  Read about the innovative business ideas that our year 9 teams – Petsco, Atlas, Disgierio and Don't Take it Personally displayed at the recent competition.  Judges recognised their creative talent, wit and ingenuity recognised by the judges at the recent competition.   
Perhaps the most humbling success of which I am exceptionally proud is of out Prince's Trust Achieve pupils.  This remarkable group of young people has created the Uniform Swap Shop where they provide recycled school uniform to help with affordability to support our community during these hard times.  Their resilience and determination has made this community project a huge success and earned them the title of Prince's Trust Community Award Winners in the Welsh round of the awards.  They are exceptional young people and should be proud of their achievements and for putting Maesteg School on the map! 
Finally, read about a pupil whose perseverance and hard work is legendary throughout the Llynfi Valley.  Lola Videan has achieved the highest accolade in engineering by securing a place on the esteemed Rolls Royce Apprenticeship Programme.  This programme is notoriously competitive as it is so highly regarded and she faced tough competition to beat off thousands of other applicants across the country.  I hope Rolls Royce appreciates the rare gem they have in Lola.  She really is one in a million! 
As ever, our children could not achieve these outcomes without the support of our wonderful staff and our parents and families.  On behalf of our school community, thankyou to all those who have contributed to this edition.  HJ
Speaking Up!
Year 7 pupils have been working hard in their English lessons to secure a donation of £1000 to give to a charity of their choice.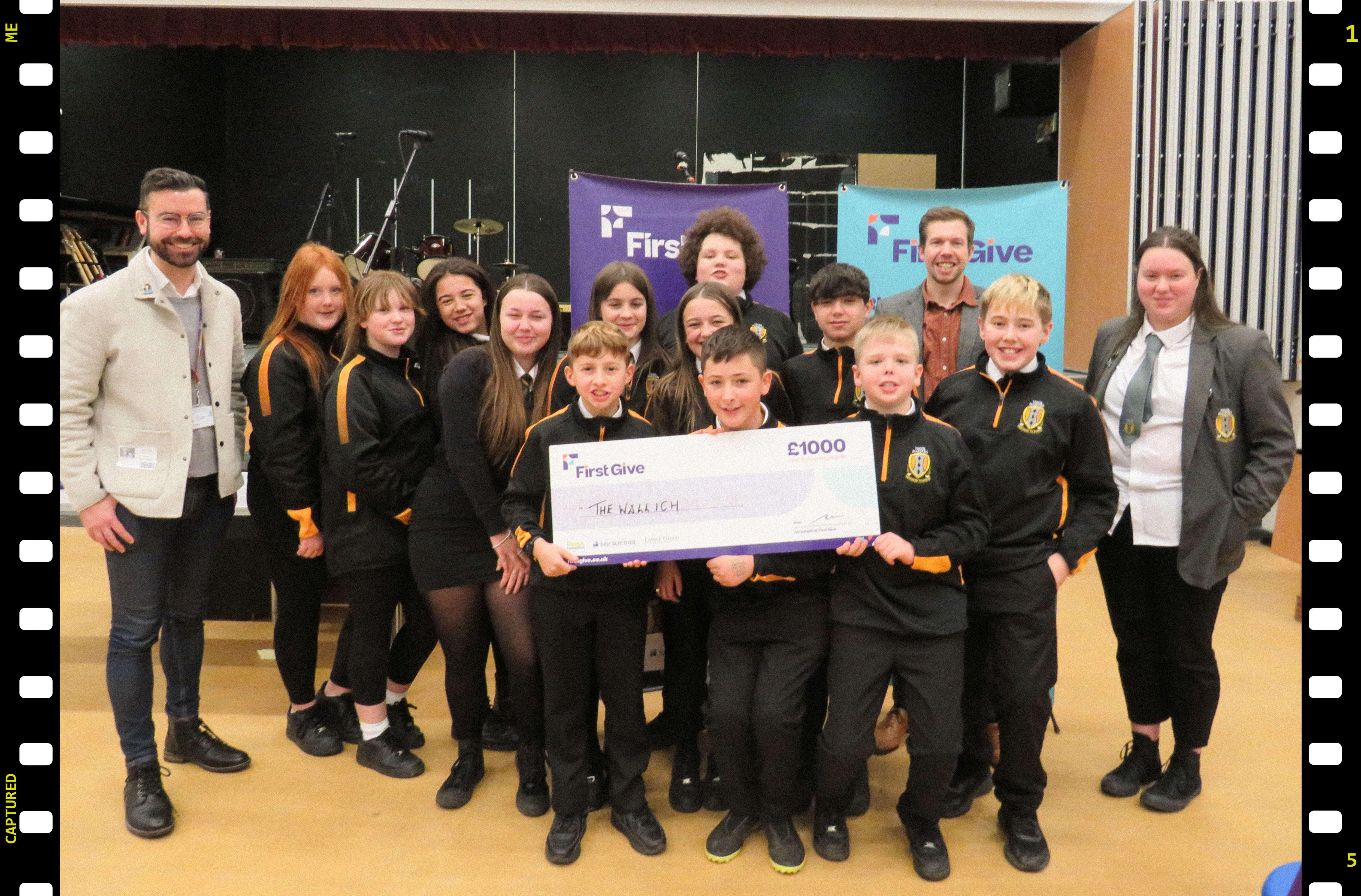 Supported by the First Give programme, the English Faculty at Maesteg ran a hotly contested public speaking competition, in which groups from each English class competed to win the money for their chosen charity.  
A panel of judges scored each group against strict criteria, considering the creativity, knowledge and delivery of each presentation, which were delivered to an audience of over 180 pupils and staff.  Mia, Charlie, Maisie, Taylor-Jay and Keaton from 7RBS, under the guidance of their teacher Dr Jones, were victorious with their pitch to support Bridgend homeless charity 'The Wallich'. Well done! 
Thanks go to the First Give programme for their support, Councillor Rhys Goode and prefect Evie Fear for judging, and the staff and pupils from our Expressive Arts department for providing some musical entertainment to help year 7 celebrate their achievements. Congratulations to year 7 and everybody involved!  
Year 11 Options
Recap: Sixth Form Open Evening 
Head of Sixth Form Mrs Waters introduced pupils and parents to the latest Sixth Form prospectus at the successful event in March.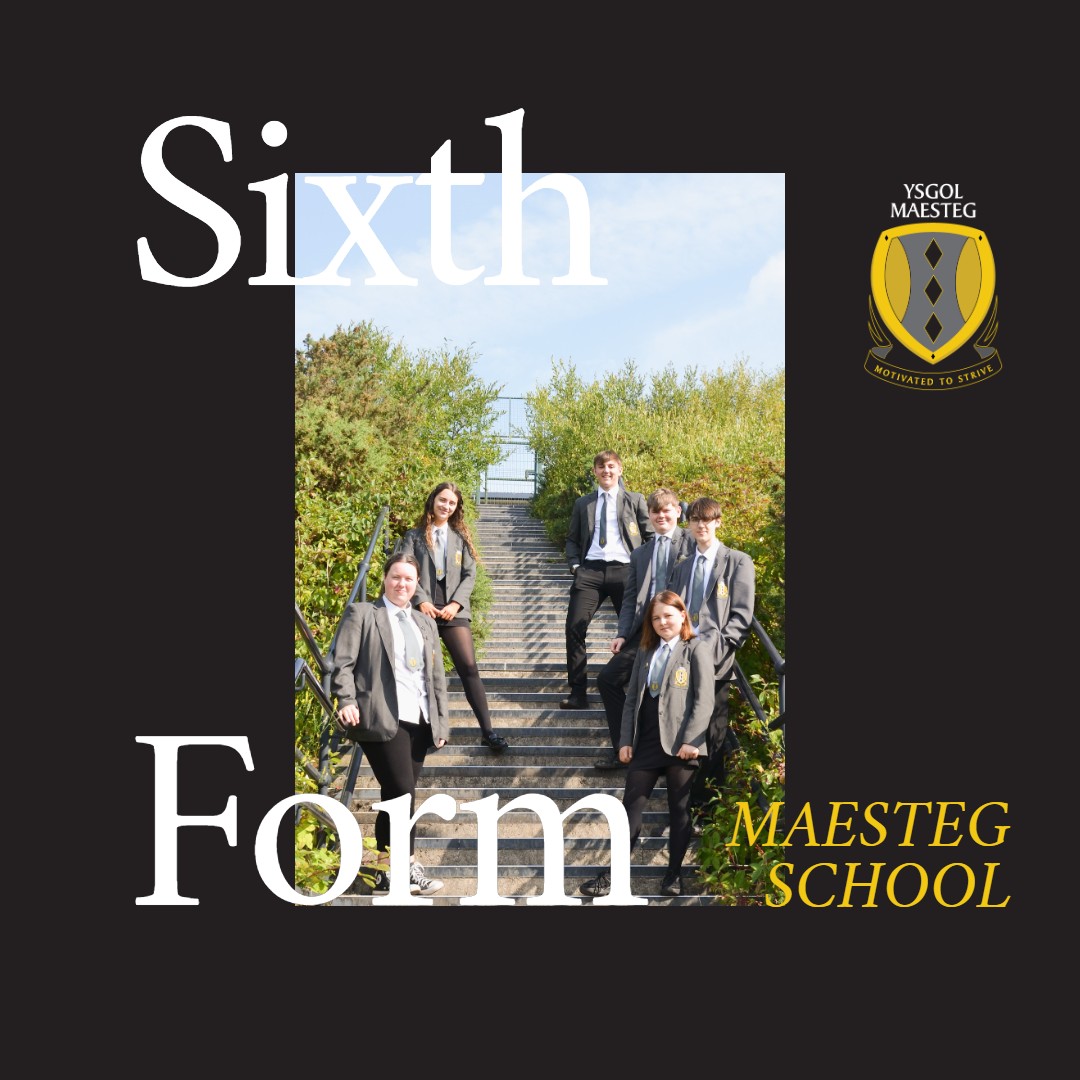 It was wonderful to welcome faces old and new through the doors for our Sixth Form Open Evening this term. Head of Sixth Form Mrs Sian Waters and Headteacher Helen Jones presented to pupils and parents in the main hall – If you missed the event or just want a recap, you can access a copy of the presentation below.
Pupil voice matters greatly to us at Maesteg School, so we didn't miss the opportunity to catch up with members of our Senior Prefect Team who shared their thoughts on Maesteg School's Sixth Form via the video below.

Many thanks to staff, pupils and parents for their efforts in making the evening a huge success.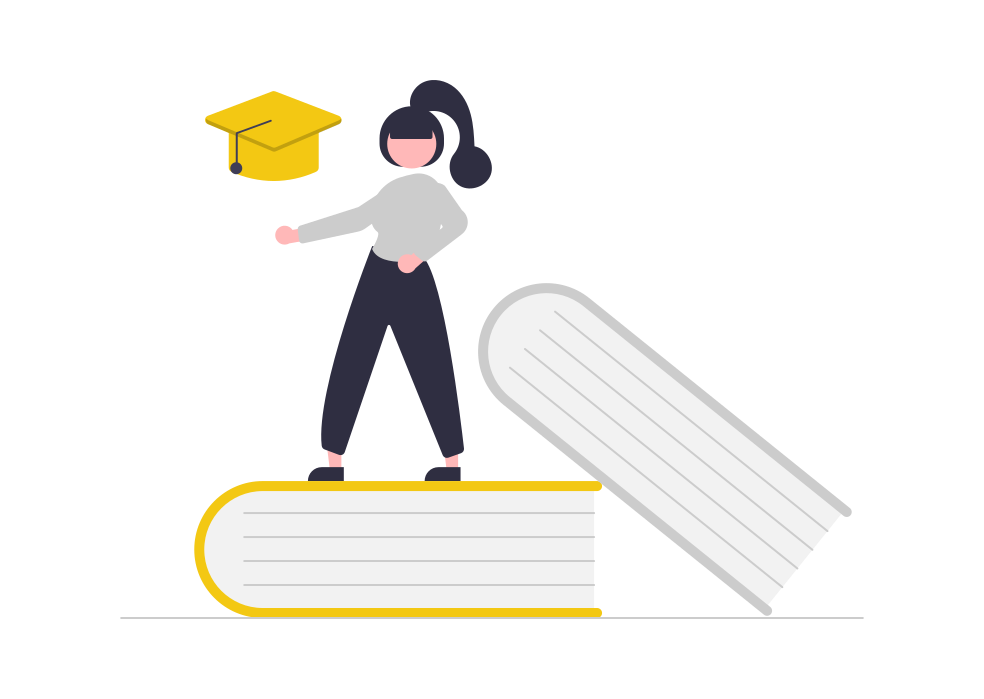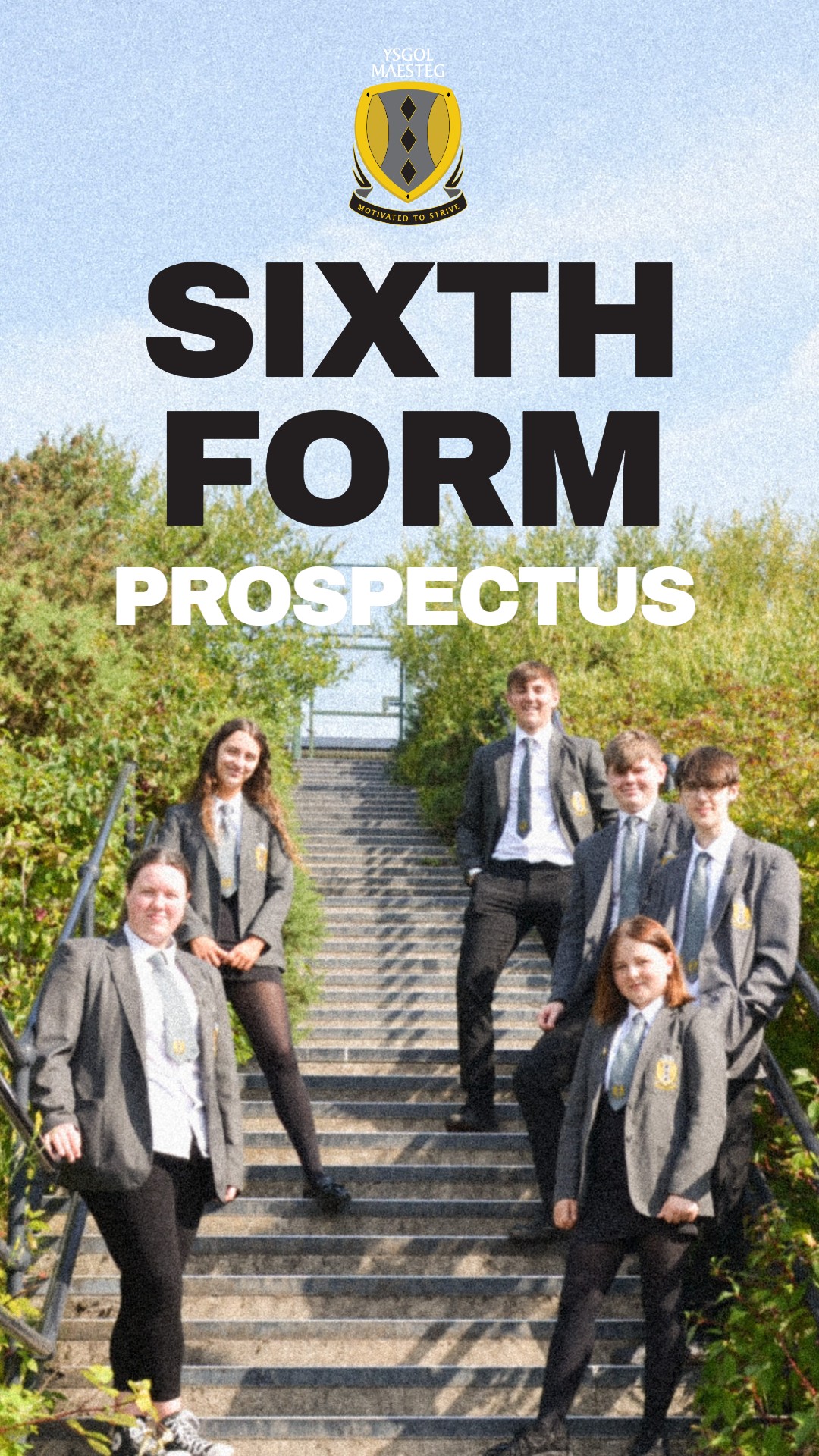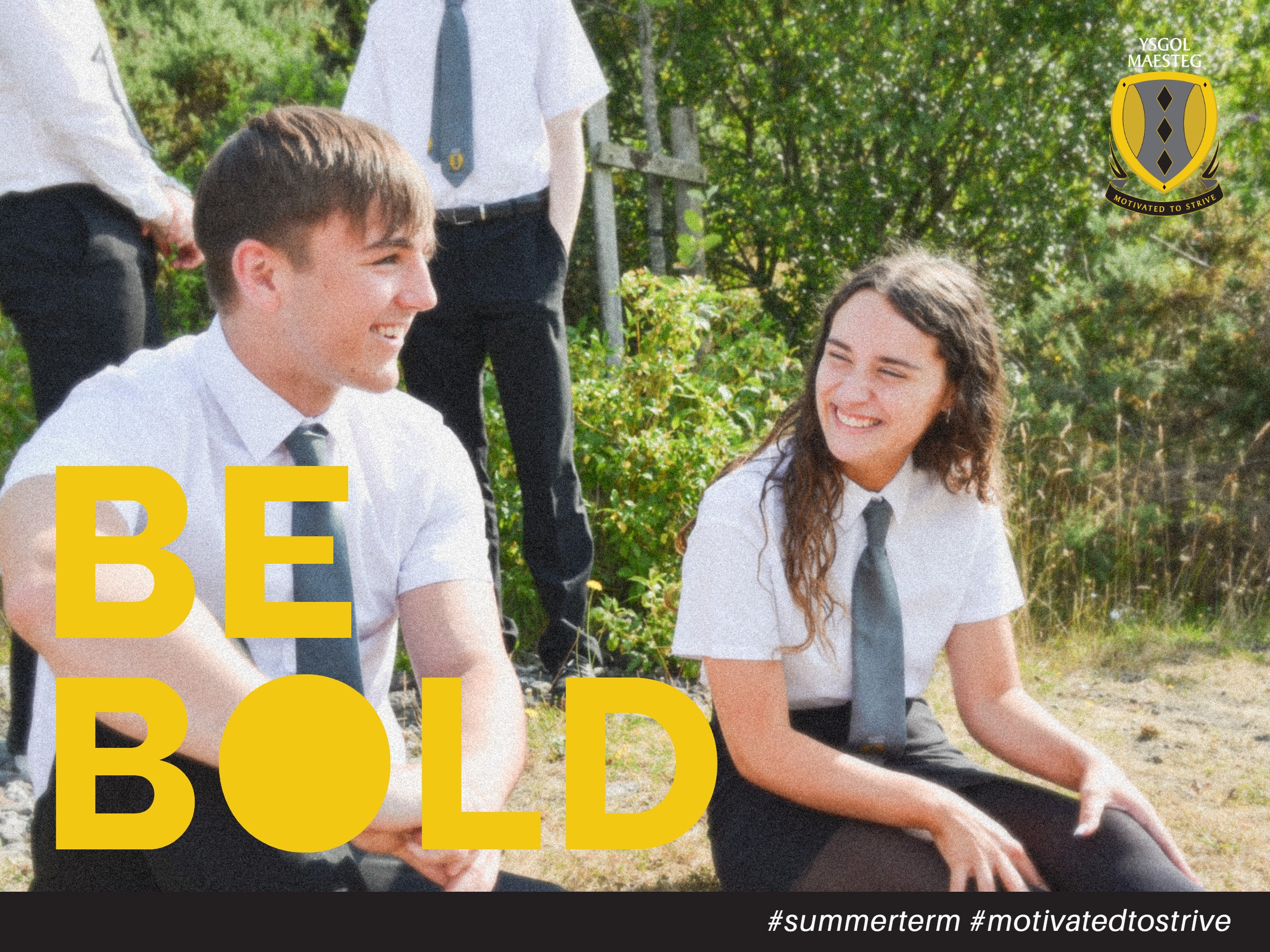 SIXTH FORM UPDATE:
Head of Sixth Form Mrs Waters, shares the latest news
More Below
As usual, there has been lots going on over the last term. Our Post-16 options event was a huge success. Lots of year 11's attended and there was a real buzz in the hall as they discussed their options with their teachers. We can't wait for them to start their sixth form journey with us in September!
Year 11 parents, please keep an eye out for an email coming soon which will explain how to book an interview appointment with me this term. I will meet with you all individually to discuss options and answer any questions you may have. 
This week sees the launch of our search for the new Senior Prefect Team. Application forms are available from the year 12 Teams page. Please all consider applying as it is such a worthwhile experience, and a position which will stand out on your CV and personal statements. We will shortlist applicants and hold interviews at the beginning of May. 
Year 12 and 13 are now in full "revision mode" for external exams. Parents, please keep the biscuit tins well stocked and plenty of sweets on hand. They will be needed! Good luck all, the hard work will most certainly pay off!
Mrs Sian Waters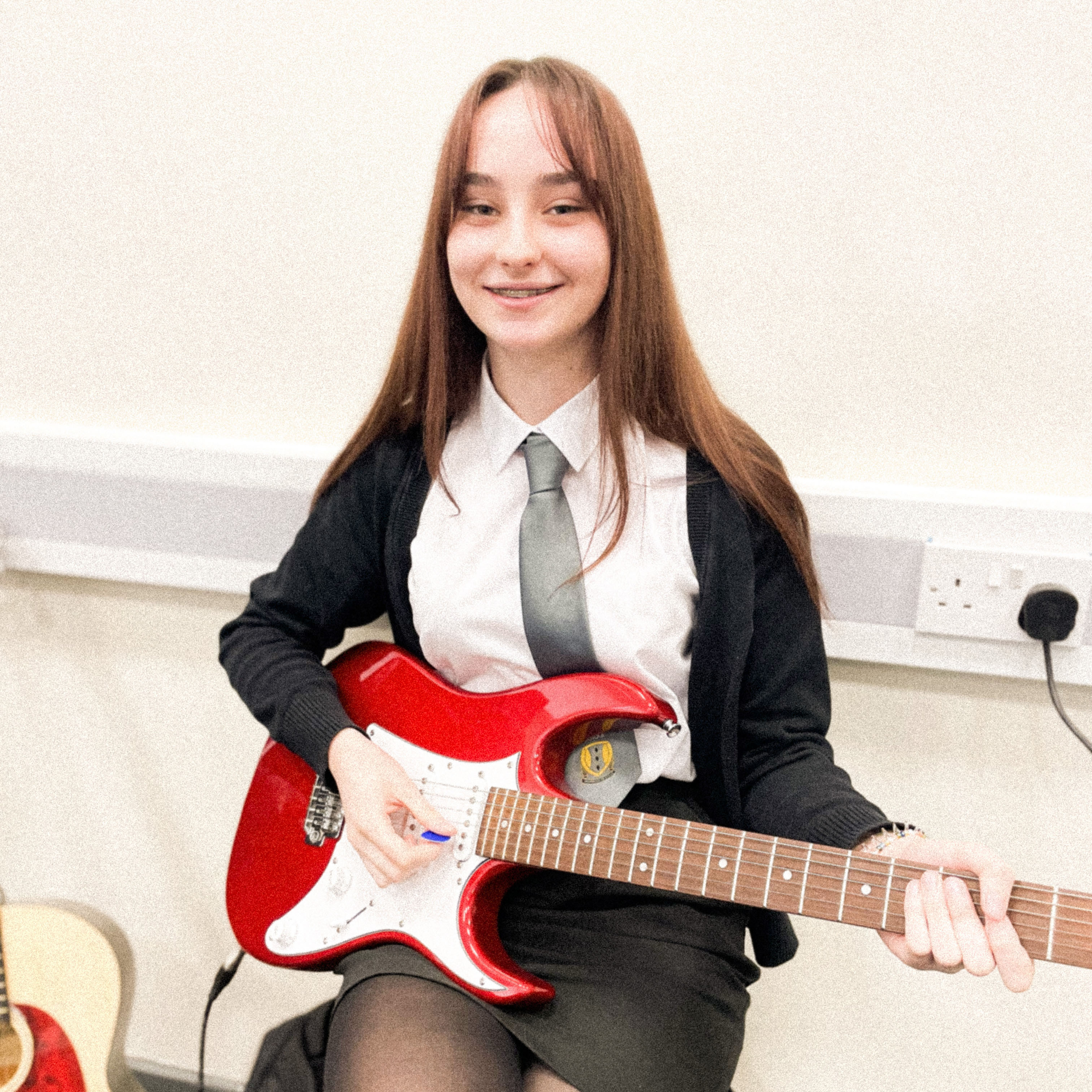 International Women's Day
Maesteg School joined forces with singer songwriter Lowri Evans to celebrate #IWD2023
More below
Female pupils from Maesteg School were given the opportunity to find their voices in March as part of Awen Cultural Trust's International Women's Day celebrations.
Working with West Wales Americana/Folk professional singer songwriter Lowri Evans, twelve pupils from across Years 8 and 12 joined forces to create a new song acknowledging the struggles faced by women over generations, whilst celebrating their strengths with hope for the future.
Pupils have been learning about the rich history of the suffragettes in the Llynfi valley, with both Sylvia Pankhurst and her mother Emmeline having held public meetings at Maesteg Town Hall in the early 1900s. The great moraliser and politician Richard Price, originally of Llangeinor also greatly influenced the writings of his friend Mary Wollstonecraft, considered the first feminist with the publication of her book 'A vindication of the rights of women' in 1792.
From this initial discussion of history came an exploration of female identities and experiences within the world today, with pupils able to share their own experiences and thoughts, all of which have been sown into the creation of rich lyrics, giving them a voice through music. With the younger pupils supporting Lowri vocally, the older pupils contribute instrumentally, having started their own band. The track itself was professionally recorded with the pupils at the school thanks to support from Cobra Music and will be released to the public later this year.
A premiere performance of the song entitled 'Let's Show Them All' was debuted at Maesteg Library in a concert, where Lowri Evans and our pupils sang side by side.
Libby and Olivia Thomas, year 12 students, talked about how exciting it was to work on the project and gain professional experience within music:
"I feel the lyrics are very sentimental for us as women, being able to sing them freely today without any judgement. They are as relevant for the suffragettes as they are for todays women. The fact that I have been able to sing and express how I personally feel as a woman about women's rights is so important," said Libby. "Every woman recognises that women in society do struggle and if you listen to the song it gives a sense of empowerment – you can be and do whatever you want," added Olivia.
You can enjoy footage of the live performance from Maesteg Library below: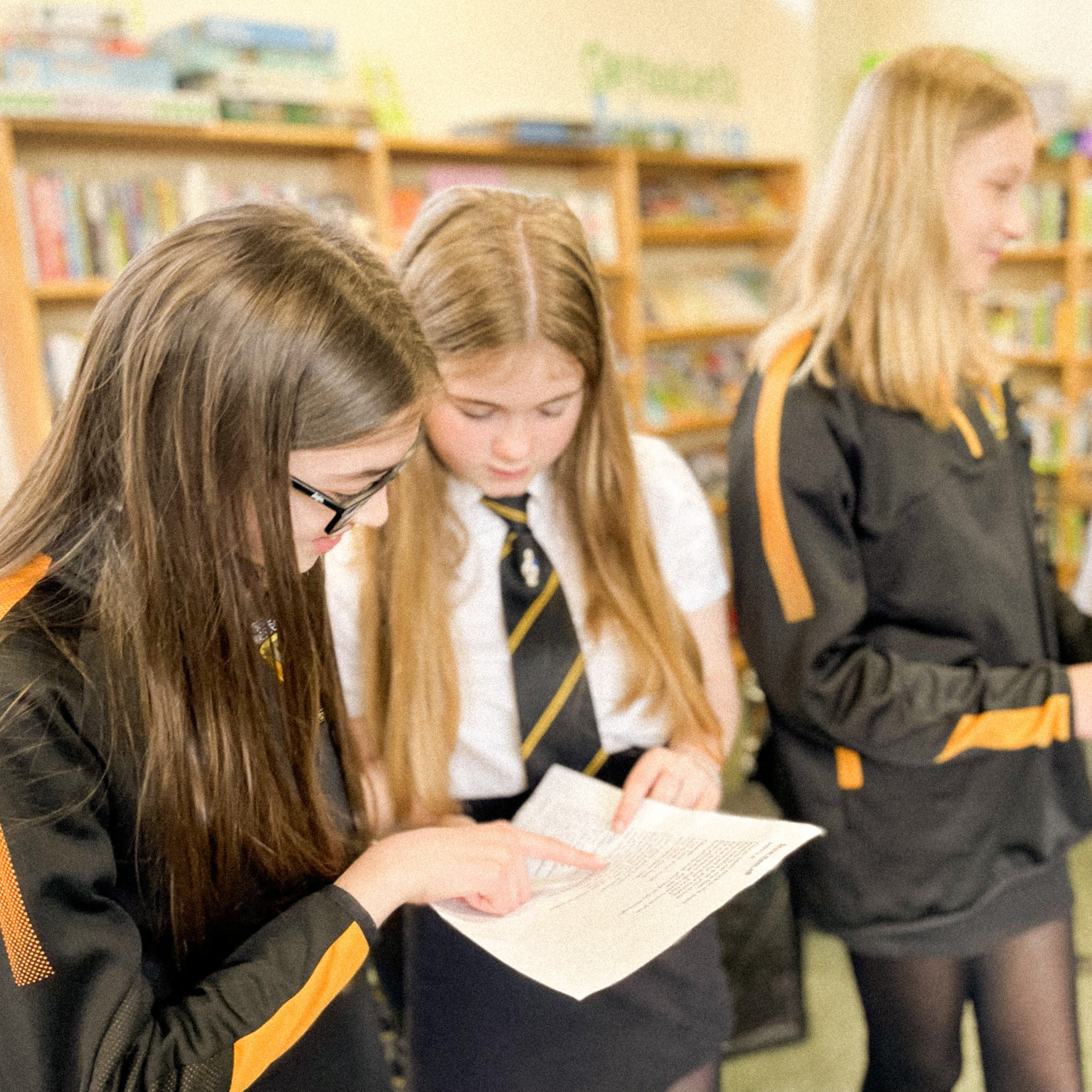 Many Thanks!
Many thanks to Awen, Lowri and Andre for working on this wonderful project with our pupils
#maesteg23 #motivatedtostrive
Music For Youth: Band Success!
Maesteg School were delighted to take two different bands to Music for Youth festival this year, held in Porthcawl Pavillion. 
Music for Youth is a national youth music charity working with young people aged 25 and under across the UK. Our vision is to ensure that every young person in the UK can achieve their musical potential by performing the music they love. We believe that music, and the chance to participate in high-quality musical activities, should be open to every young person.
Maesteg School's bands were 'Downcast' consisting of Kieran Roberts, Travis Hanbury and Connor Blackmore all of Year 9 and 'No Name' featured Poppy Cole, Krystal Davies and Louisa Penny from Year 12 alongside Morgan Morris form Year 9.
Both bands played two songs and the judges were delighted with their choices and thoroughly enjoyed their performances. The bands have also entered Bridgend Music Service's Battle of the Bands this year and have been successful in getting through to the next round so are busy preparing for this and are eager to perform in front of an audience again!

Congratulations to the pupils involved, thank you for sharing your musical talents with us – next stop, Glastonbury! #motivatedtostrive
No Name / Dim Enw w. Mrs Rees

Battle of the Bands success!
Young Enterprise Victory!
4 teams from Year 9 and 10 competed in the Young Enterprise finals this term, pitching business ideas to a panel of judges. Other comprehensive school from the county had teams made up from sixth form pupils yet our pupils defied the odds and left victorious! 
Maesteg School left with 5 awards in total, a fantastic recognition to the hard work put in by our pupils. Read more below: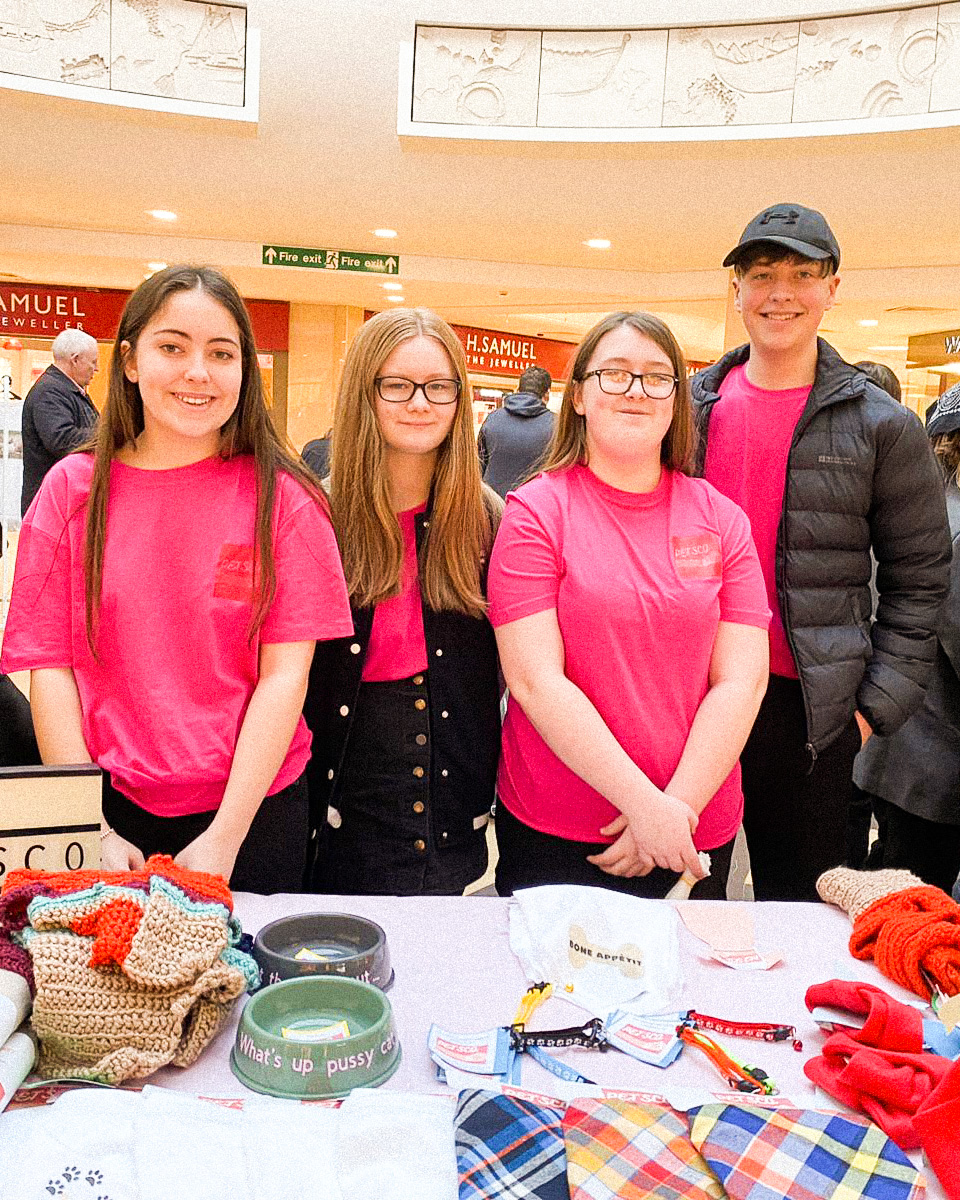 Young Enterprise programmes provide opportunities for young people to develop essential skills and attitudes which not only enrich their academic learning, but also provide a strong foundation for the future.
Enterprise education provides young people with the skills, competencies and mindset to make the most of everyday opportunities and challenges. Being enterprising is something which can be applied to all aspects of life and work –  identifying and initiating opportunities as well as adapting your response to situations.
In the age of a rapidly changing jobs market, young people need to be innovative, creative and adaptable and the teams that represented Maesteg School in the competition embodied all of those qualities.
PETSCO – Selling items for pets, was made up of Cerys Stevenson, Evan Lewis, Katelyn Rayner and Hollie Williams.
ATLAS – selling t-shirts with 'chat up lines' comprised of Daniel Williams, Chay Bowen, Louis Bumford, Rhys Owen, Morgan Davies, Alix Davies.
DISGlERIO – selling jewellery, was made up of Hannah-Leigh Jones, Phoebe Jones, Riley Tanner.
DON'T TAKE IT PERSONAL – personalised gifts such as bottles and shadow boxes, comprised of Lauren Dawkins, Mia Headington, Bella Homeyard.
Managing Director of PETSCO, Cerys Stevenson was has been enjoying the success of the pet product that was started in December.
"We have already expanded the range of products we offer to include jumpers, toys, blankets and climbing frames," said Cerys. "In fact that's just a sample of what PETSCO can offer," she added. "We were very pleased to win Best Trade Stall at the Trade Fair in St David's Shopping Centre in Cardiff, where we sold our products to shoppers in the capital."
"That award felt like huge recognition for our hard-work and creativity but we managed to go one better and won Best Presentation at the Young Enterprise South Wales finals. The future is bright for PETSCO as our team plans what is next for our business," added Cerys.
C O N G R A T U L A T I O N S !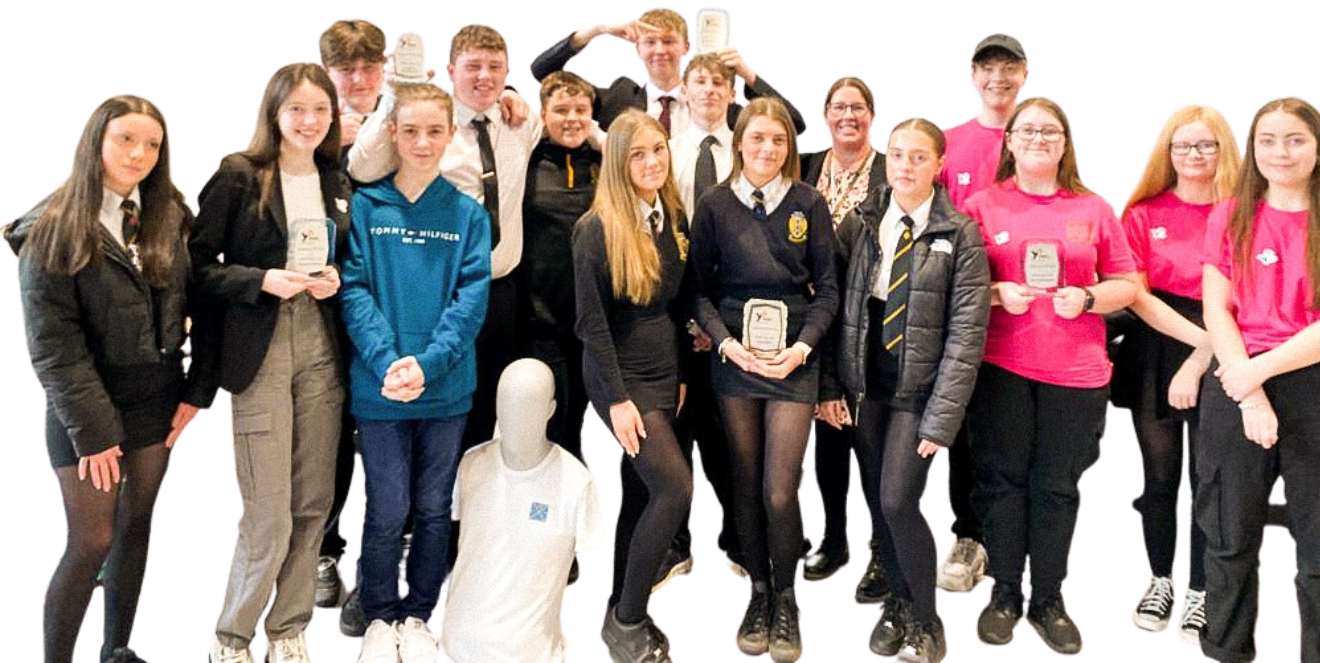 SWAP-SHOP SUCCESS
Pupil's awarded for their hard work and compassion: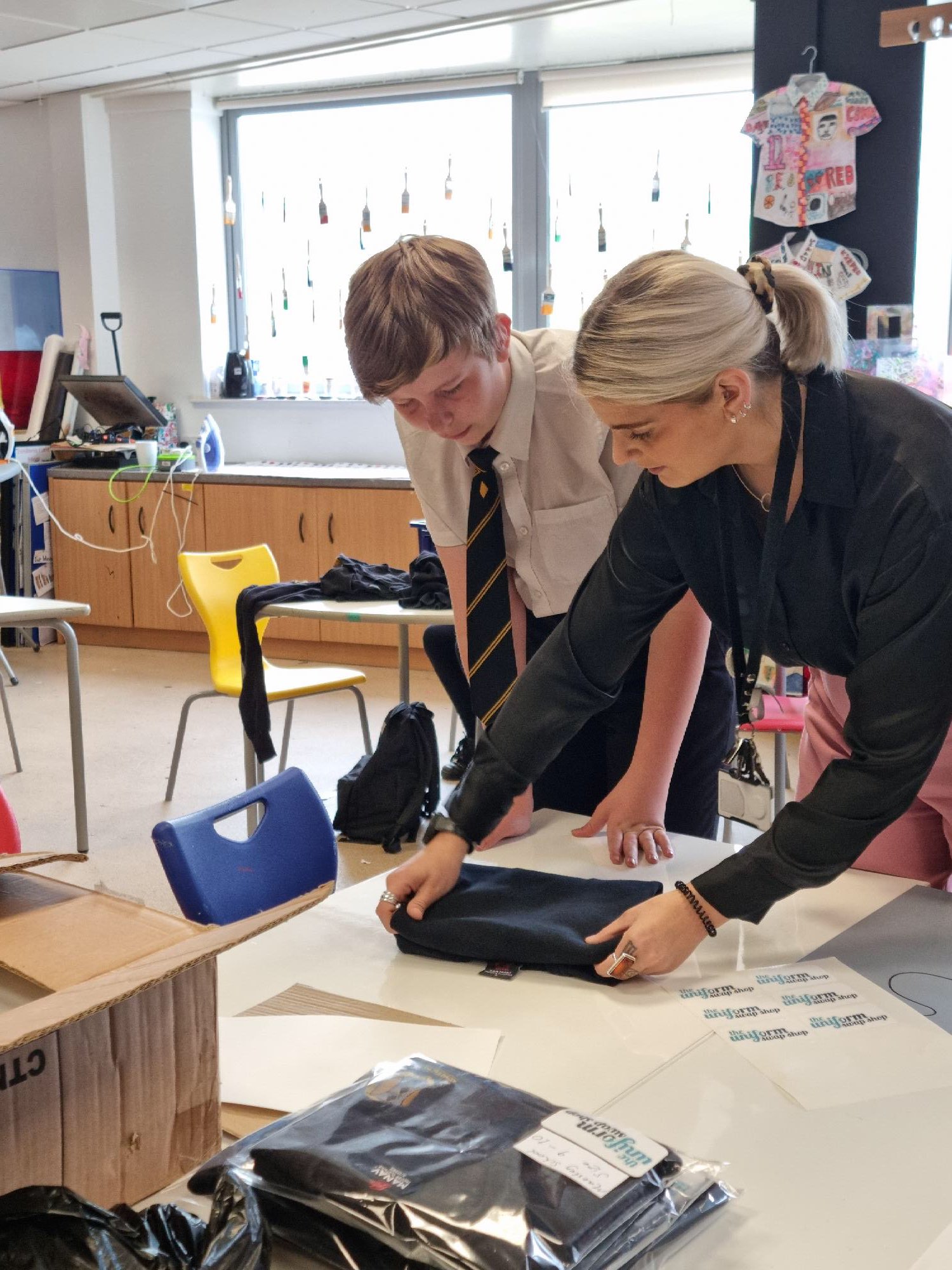 A group of students on the Prince's Trust Achieve Programme at Ysgol Maesteg, came together to create a sustainable project to help young people and families in the Llynfi Valley. The group wanted to ensure their fellow pupils had school uniforms to wear to school each day.
Maesteg School has been running the Prince's Trust Achieve Programme since 2018,  supporting young people referred to the course, who are looking to gain qualifications and teamwork skills. Achieve is delivered in over 500 secondary schools or alternative education settings throughout the UK.
The course includes a Community project unit, where the young people come up with an idea to work together, build their skills and support the local community.
Miss Pearson supported the pupils as they formed their Uniform Swap-Shop : "Our Prince's Trust pupils wanted to do something that would benefit those around them and something they currently see as an issue in their community during these hard times. At Maesteg, we have seen the number of pupils eligible for free school meals increase by 12% in the past few years, so we wanted the pupils to come up with a project to help others, while also being more sustainable."
Jack, one of the pupils said, "We wanted to offer practical help that would support fellow students, which also helped us to develop new skills too. We noticed that the "lost property" area was quite full and untidy and that it also included forgotten school uniforms. That got us thinking."
"We were aware that some people in our community could not afford to replace their child's school uniforms regularly because they're struggling with the cost of living. So we thought that might be a good way to help – by recycling the uniforms and offering them to students who needed it. We wanted the uniforms to look new and something that a student would be happy to wear."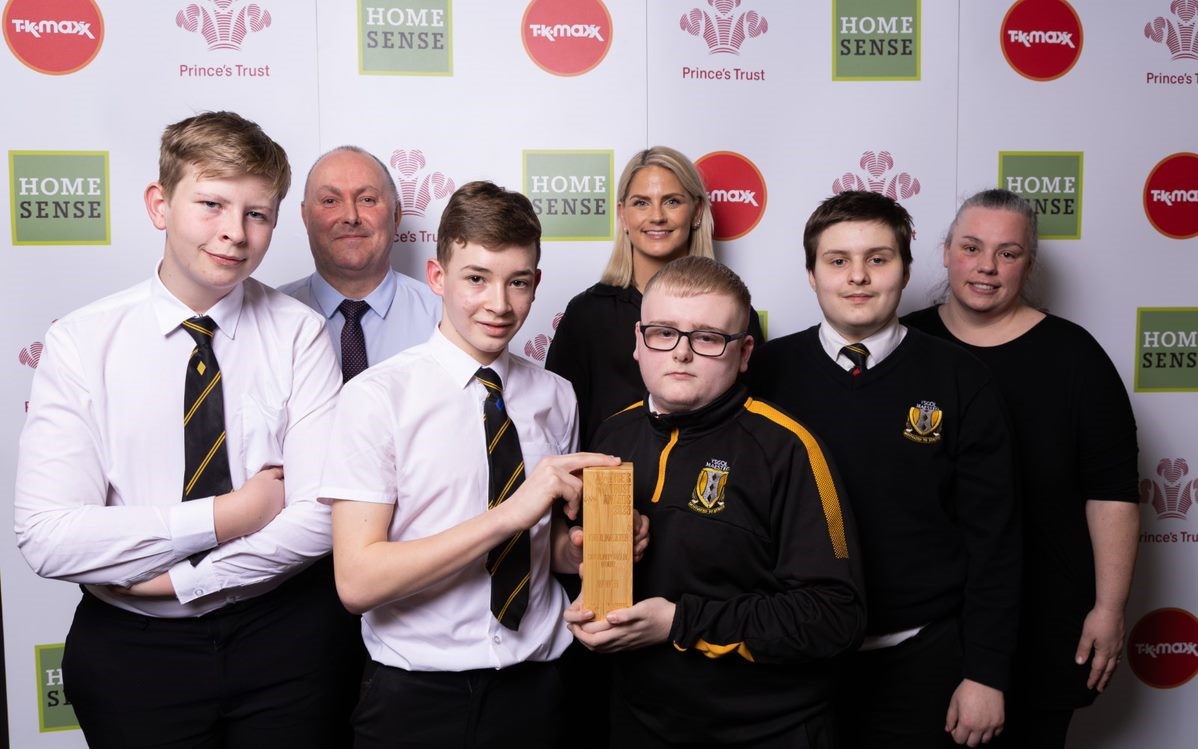 The group of pupils washed, ironed, folded and packaged more than 50 pieces of uniform and repackaged the unclaimed items, so families in need could collect them as part of a Uniform Swap-Shop.
The group learned how to work as a team through the project, with different "stations" and if one pupil was ever struggling, another pupil was always ready to step in and help.
Jack added: "We gained so many skills on the project, including how to communicate with each other and how to manage a project. We learned how to use a washing machine, using the right cycle based on the garment instructions, ironing and how to present the clothing in a pleasing way – so it looked like a new product. It gave us confidence. Plus the 'lost property' space looks a lot better because of us!"
Now having taken part in the Achieve programme for a year and a half, the group's confidence has greatly improved as they move towards their final few months in compulsory education.
Miss Pearson added: "It's a great initiative that the pupils came up with, and we hope to be able to continue it while there is still a need in the community."
On winning the award Jack said: "The project showed that by working together we could help others in our community. Winning The Prince's Trust Award is great! It has given us even more confidence and encouraged us to think about developing new ideas for our community."
See the Uniform Swap-Shop team in action below:
Lola Videan:
Our Rolls Royce Pupil
Year 13 pupil Lola Videan recognised that the university path was not what she wanted after her sixth form studies. This led to the pursuit of an apprenticeship to kick start the next chapter of her life. After a relentless effort to secure the position of apprentice, Lola shares with us the details of her journey to reaching that goal.
After applying for several opportunities and getting through to the assessment stage of the applications, Lola didn't let the multiple setbacks stop her from pursuing her goal of an apprenticeship post sixth form. Eventually Rolls Royce recognised Lola's incredible skill set and offered her a position in Procurement which will begin this Autumn. We caught up with Lola to celebrate her fantastic achievements and find out about her journey to Rolls Royce.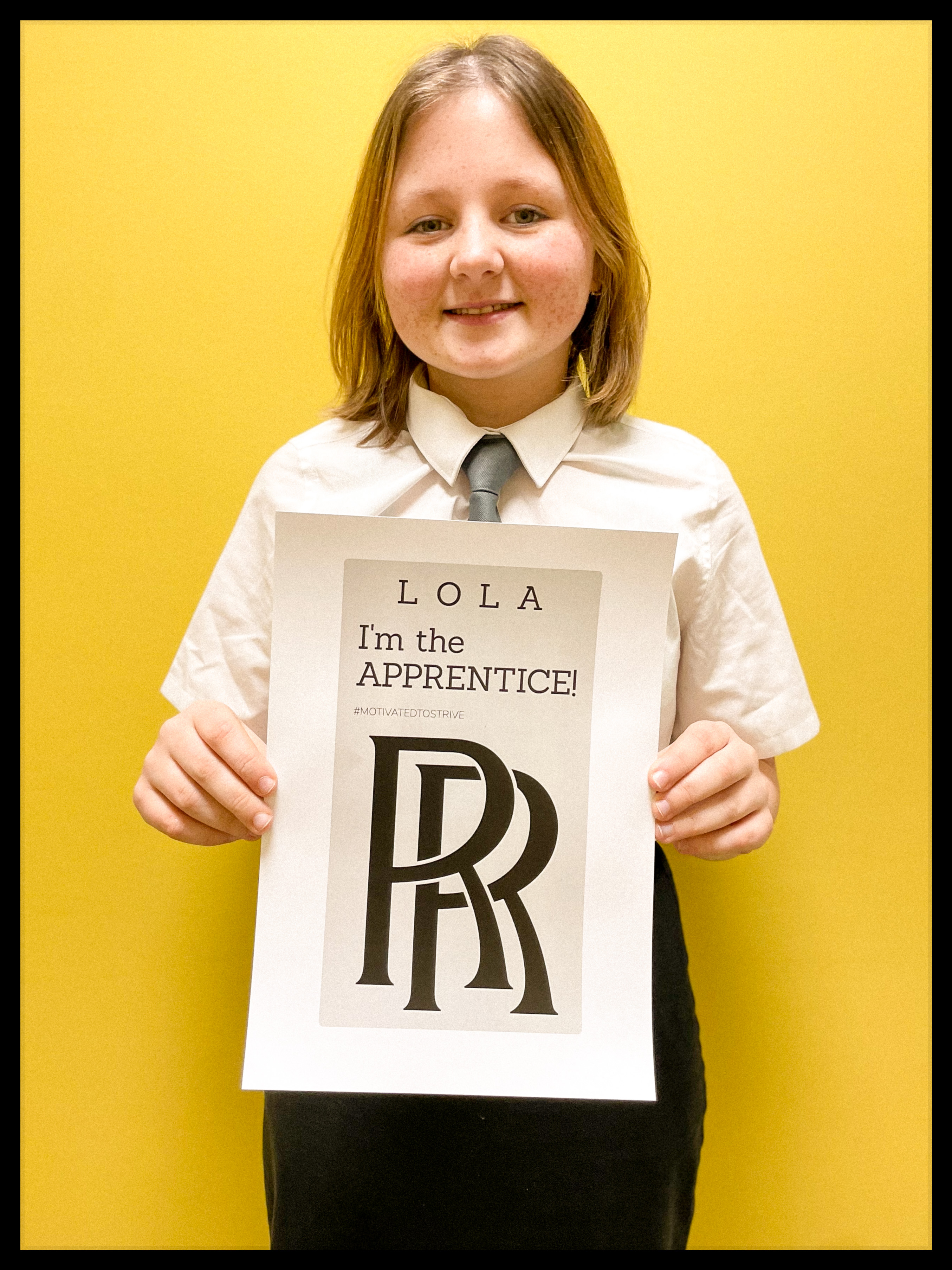 "I knew that university wasn't for me and that the apprenticeship schemes offered an alternative pathway," said Lola. "However, as a backup plan I applied anyway and was accepted at several universities including an unconditional offer to study Architecture at Bath University. Although this would have been a great opportunity, I have always enjoyed the 'work ethic' approach over academia and studying, and so opted to apply for apprenticeships where I could earn money whilst working."
"My advice for people applying for apprenticeships would be to look at the wider context, not just the particular topics that interest you but the broader view of what's available, you wouldn't want to miss out on an opportunity because of a narrow field search, there are so many incredible jobs out there that you have no idea about until you start researching."
Lola's journey to Rolls Royce certainly wasn't straight forward, as she explains: "When I got to the assessment stage of my Nestlé application, I was up against 10 others, reading through case studies and pitching our ideas around investment, business development and my personal solutions around any developing issues. Despite getting knocked back, I used the experience to go away and research case studies and this put me in an advantageous position for my interview at Rolls Royce in Bristol."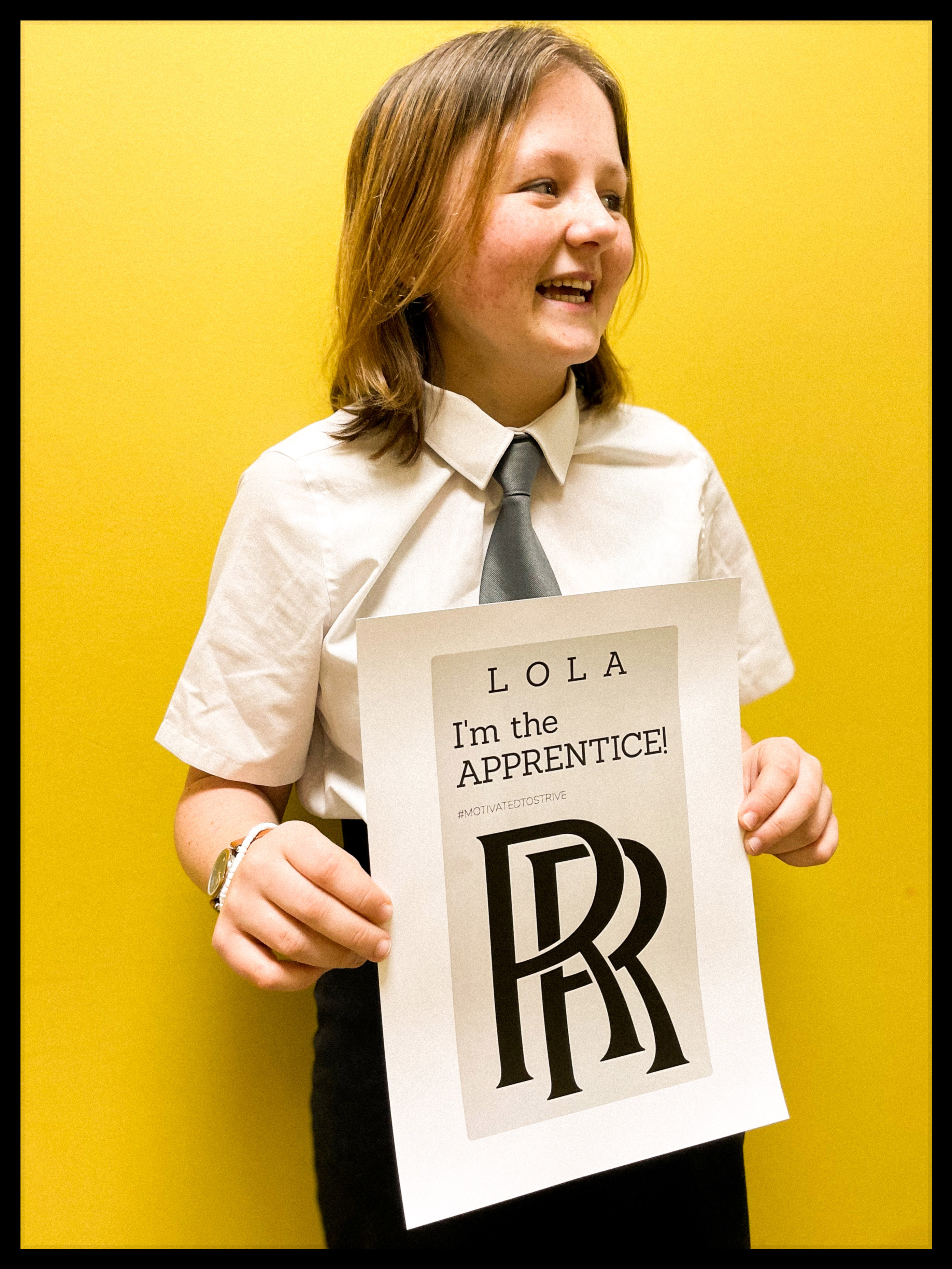 "I used the experience (of knock-backs) to go away and research case studies and this put me in an advantageous position for my interview at Rolls Royce…" – Lola Videan
"After meeting with the assessors, I had an interview and shared a technical presentation that linked back to Rolls Royce, before evaluating a case study and sharing my findings," added Lola.
"It was an intense experience with a lot of pressure. I was up against other candidates and the whole process was being monitored by two assessors and it felt like there was no room for error! I had a callback two days later where I received positive feedback about my interview, the assessors really appreciated how I linked the case study topics back to the company and how I was calm in such a high pressured scenario."
"It felt so good to be offered the apprenticeship and I felt such a sense of relief after receiving the call. The whole process felt very rewarding after all the hard work in applying, presentations and interviewing! The journey I've been on through school and applying for this apprenticeship has solidified my mindset around perseverance and resilience, to embrace failure as a learning tool and to lean into the idea that we should push ourselves in pursuit of our dreams. I am very excited to start this new chapter of my life!"
Everyone at Maesteg School would like to congratulate Lola on this wonderful achievement. We celebrate her hard-work, endeavour and how she embodies our school motto of motivated to strive, well done Lola!
Expressive Arts
ANNOUNCEMENT
The next Maesteg School show is…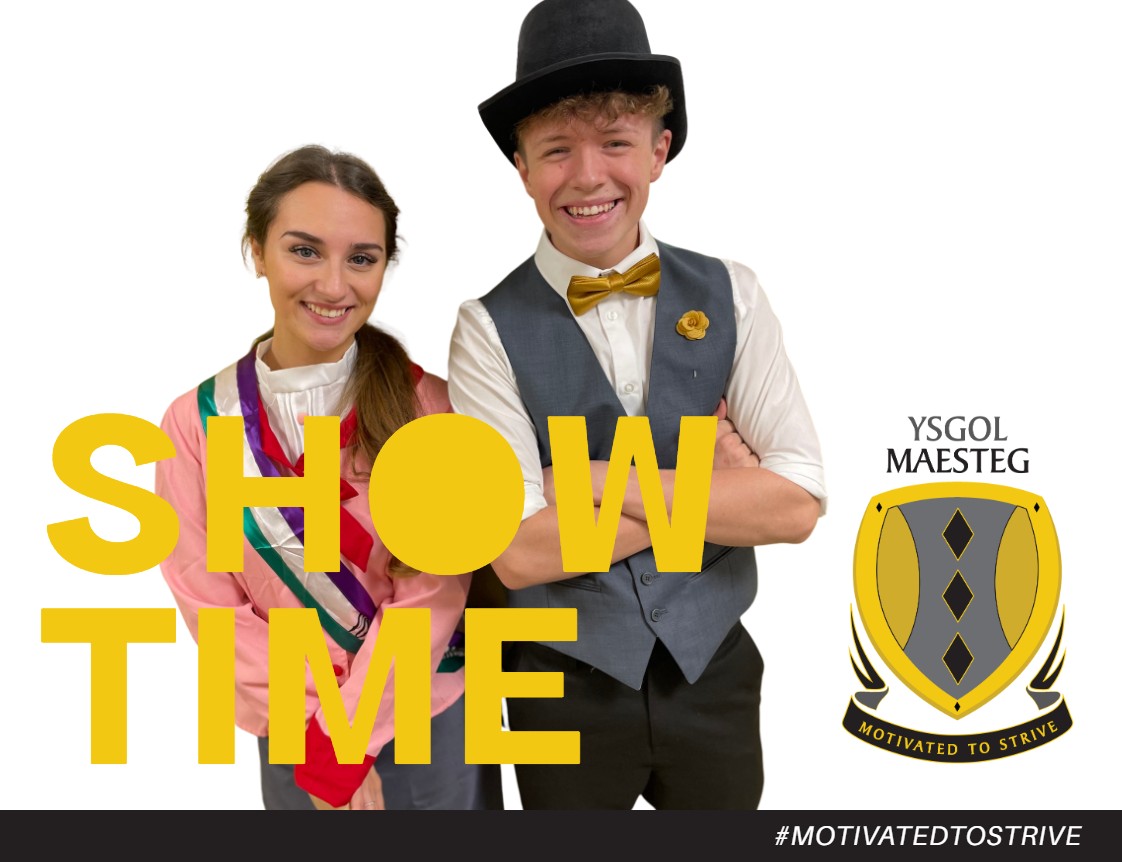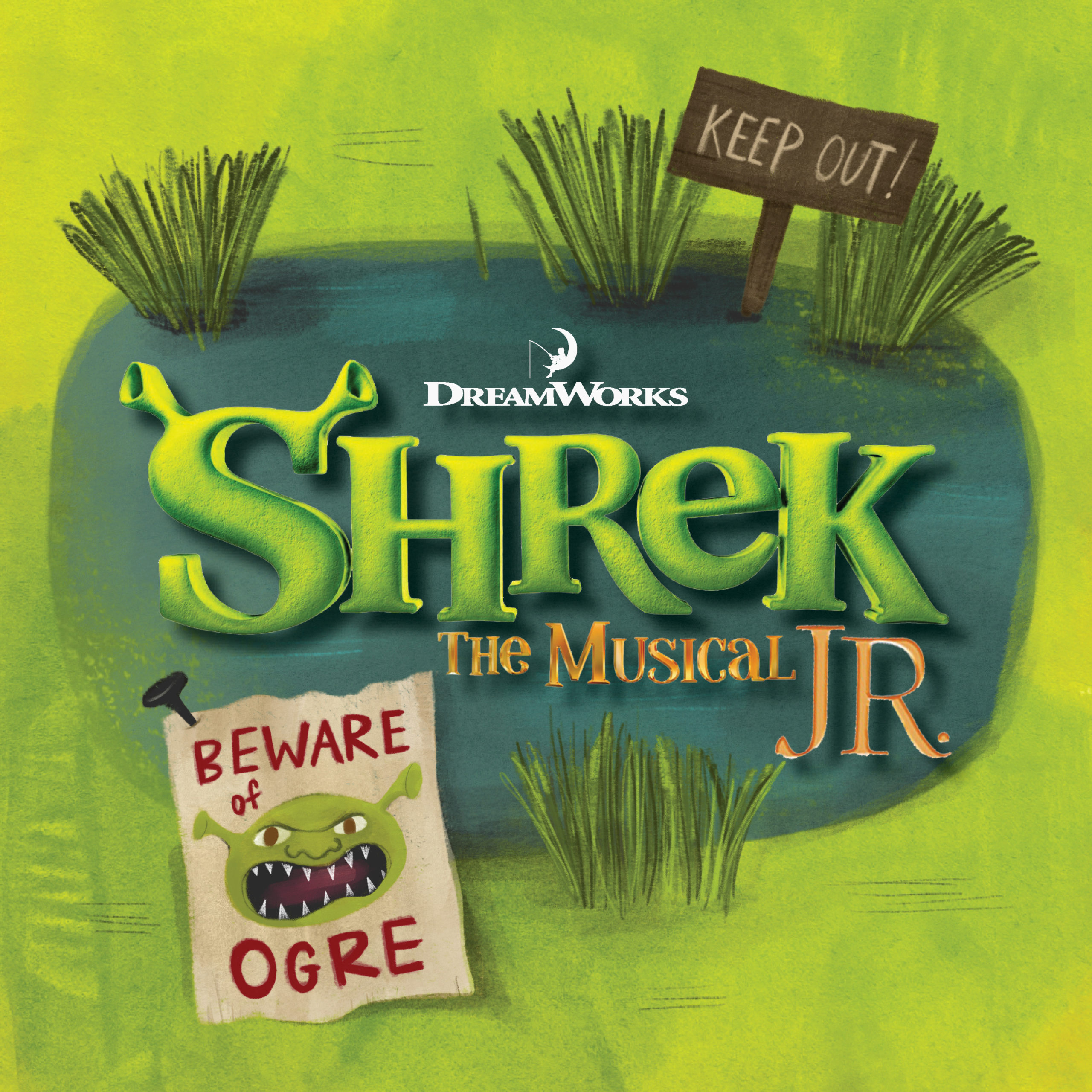 SHREK THE MUSICAL 
That's correct and you may have guessed it!
Miss Hillier has been teasing us with tweets as to what the next school show is and finally all has been revealed.

Mrs Rees gives us the lowdown on Shrek: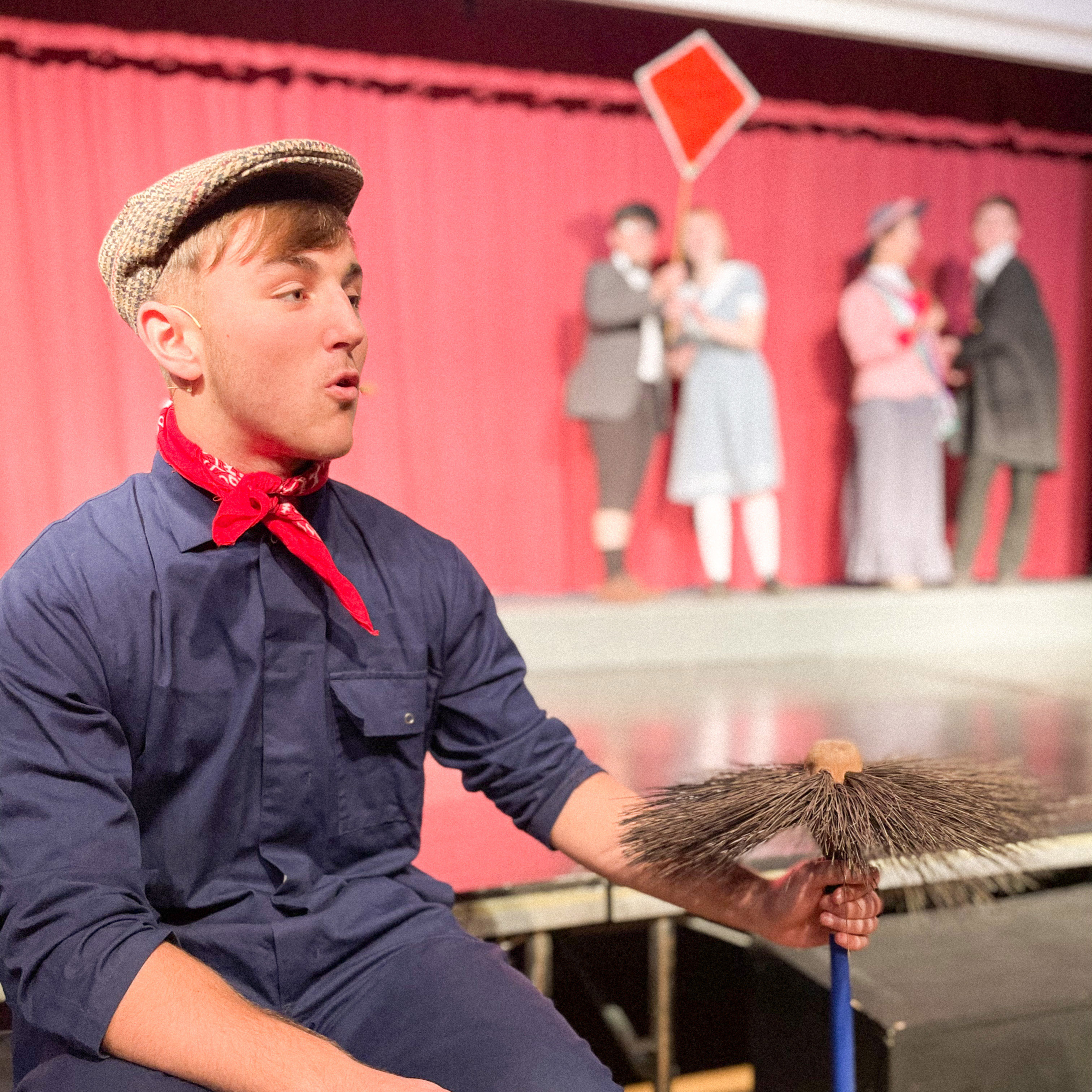 "Miss Hillier and I are very excited to confirm our next school show! Auditions will take place in the summer term so we are ready for rehearsals to begin in September. We believe this show will provide many opportunities for all ages and will be a lot of fun to rehearse and perform! We welcome everyone to come and get involved – there are opportunities to be part of the backstage team and work alongside the Art department making props and scenery if you aren't ready to make the leap onto the stage. We can't wait to get started." – Mrs Rees
That's A Wrap!
#maesteg23 #motivatedtostrive
We hope you enjoyed our Spring Term newsletter, thank you for taking the time to catch up with our latest news. We are all looking forward to a packed Summer Term and can't wait to see what our pupils have in store for us over the coming months. 

Contact Us:
Let us know if you enjoyed our latest newsletter or how we could improve it. Reach out using the link: Contact Us – Ysgol Maesteg (maestegschool.co.uk)